In recent times, India has been pitted to overtake Japan as the third largest economy by 2030 and yet the India's macro-economy doesn't seem to be robust as the rupee has continued to slide against downwards, and can be expected to be cheaper than ever by end of the year.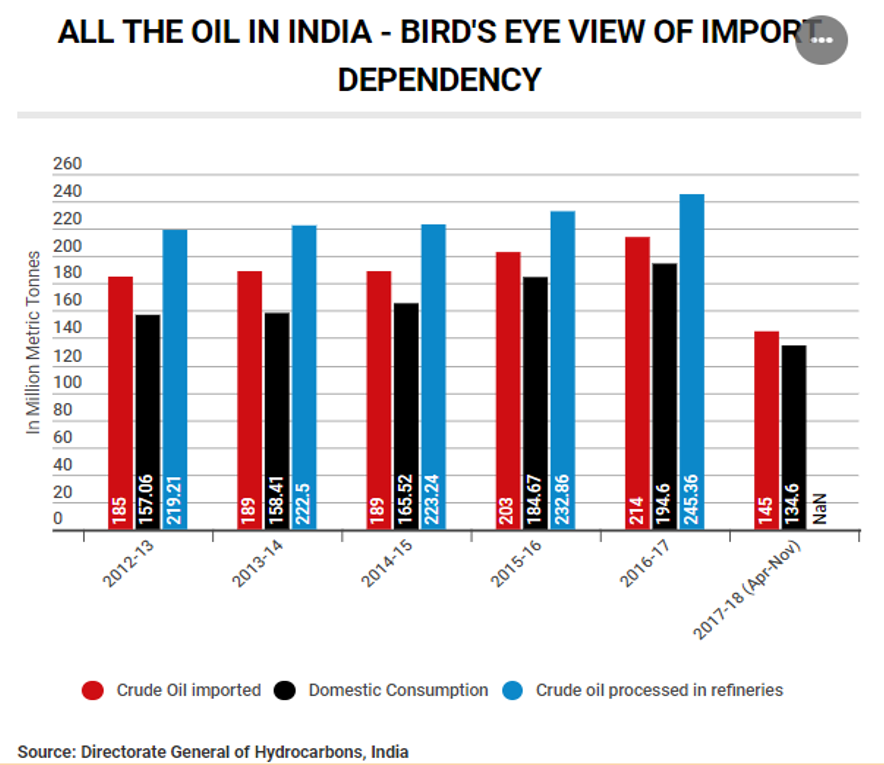 Part of the problem lies in India's dependency on oil imports. Until now India had a smooth ride owing to the oil price crash from $100 to $40. However, now the prices have climbed back to $75 making India vulnerable to factors such as inflation, increasing current account deficit and government spending in general. On the other note, India's inability to wean itself of the global crude oil imports is a reflection of the country's sorry state of affairs with respect to energy exploration.
India has attempted to rectify this by adopting key policies such as the 'New Exploration and Licensing Policy (NELP)' in 1997 and introduction of Hydrocarbon Exploration and Licensing Policy (HELP) on October 15, 2015. If NELP looked at strengthening India's energy security by ramping up domestic production, by finding new oil reserves and operationalizing more oil wells and blocks.  HELP aims at easing business operations for those involved in oil exploration in India. It eliminates the need to pay oil cess, involvement of foreign companies in exploration, single license for conventional and non-conventional hydrocarbon exploration and removing restrictions on exploration activity during a contract period for any energy company.
As such, India has 5,675 Million Barrels of proven oil reserves and ranks 21st in the world for the same. And yet despite the policy frame work or presence of oil, the country hasn't fully scrutinize its potential zones. Some of the key locations include Bombay High, Assam, Rajasthan, Godavari, Cauvery basins and Bay of Bengal (the southern part of which is in Indonesia's jurisdiction).
"Among all the potential unproven locations, Andaman and Nicobar is particularly interesting. The ocean around Andaman and Nicobar Islands falls under the 60,000 Km subduction zone of Indo-Australian plates; subduction zone is the zone for potential crude oil sites. Out of this 60,000 Km of subduction zone, 7,500 Km of land and ocean are the part of international territorial waters of India."
Currently, oil exploration in India is executed primarily by foreign energy companies like Cairn, British Petroleum, Shell and Focus along with Indian energy majors like Reliance and Essar with the major bulk of the oil still being produced by state owned Oil & Natural Gas Corporation of India (ONGC).
Some of the problems faced by the Petroleum Industry in India are:
Shortage of Petroleum Crude
Dependence on Foreign Countries
Price Hike
Shortage of Oil Refining Capacity
Exploration of New Reserves 6. Technical Problems
Pollution
Lack of Market-determined Pricing System
Infrastructure and Development Needs
Large Population
However, the glaring challenges are more of geopolitical as well as of exploratory nature:
Geopolitical— attempts to meet demand with gas have been greatly influenced by geopolitical issues. Various plans for pipelines with Myanmar, Iran and Pakistan, and Turkmenistan and Afghanistan have fallen apart over border disputes and other issues. Domestic natural gas production has fallen in recent years. Given the growing demand and reliance on oil and natural gas for power, issues with obtaining oil and natural gas from other countries, and its own falling production, satisfying energy needs is one of India's the most urgent challenges.
Oil Wells— even though the number of oil wells have increased in India, the country's dry well problem has also been on the rise in recent years. Moreover the number of oil wells dug every year have come down drastically as well, never mind they are development or exploratory in nature.
Oil Contracts—In recent years distribution of new contracts under the umbrella of NELP has seen fluctuations. Sometimes it has happened because the companies failed to find oil, other times there were environment related and other social jurisdictions. In the beginning there was great deal of enthusiasm among corporates and State energy companies, but this has clearly waned in the recent years which is exhibited in the below Business Standard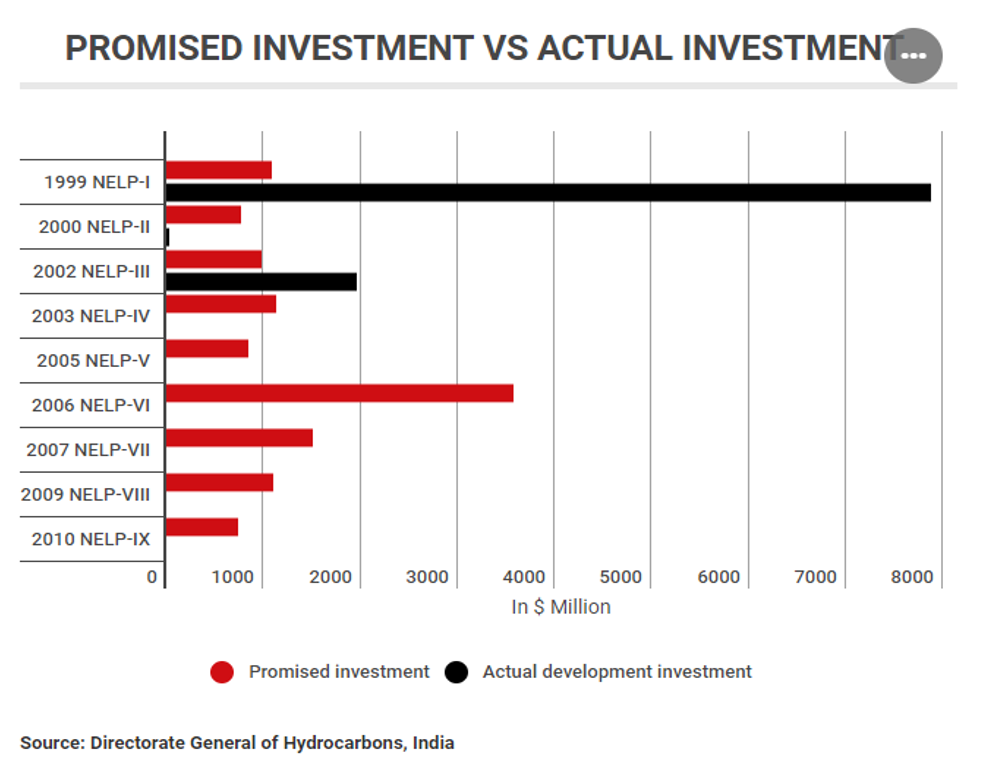 India faces an escalating demand and inadequate supply. As the country's population and development needs continue to multiply, major reforms will also be required to look after its infrastructure and efficiency to drill its own oil. Until then, India is dependent on OPEC and the global geopolitical climate.
Reference: